Mater, Percorsi Simbolici Sulla Maternità
Wednesday 26th August, 2015
Mater, Percorsi Simbolici Sulla Maternità
Wandering alone through an empty exhibition is a rare and strange experience. The quiet of the gallery space is amplified by one's solitude. Couched in silence, works of art take advantage of the latitude afforded by the lack of living bodies. Each surface, each tint and contour vies for attention, so that the walls and floors seem to erupt with competing frequencies. It is as if the rooms begin to buckle under the weight of life itself.
In June 2015 I found myself alone at the large-scale exhibition Mater, Percorsi Simbolici Sulla Maternità at the Palazzo del Governatore in Parma. First built in the 13th century the site was redesigned in 1760, over a hundred years after the collapse of the bell tower left the original palace in ruins. When Stendhal described it as "a pretty little building" he must have meant in comparison to the city's grand Romanesque cathedral or any of the other large historic structures that comprise the centro storico of Parma. Certainly from the outside the mustard-cream palace hardly feels small, standing today as a hub for modern and contemporary art in Emilio Romagna.
It goes without saying that to stage an exhibition exploring the figure of the mother across time and place is an incredibly ambitious task. The success of Mater subsists in the curators' dizzying determination to carve a shape, through interpretation and juxtaposition, that gives form to the otherwise intangible. Scope of idea is reflected in the scope of chosen works, which are not arranged in chrono-stylistic order but by abstract theme. An impressive inventory of loaned paintings, sculptures and other objects—170 in total—are separated into four main sections: 'Cosmogonie e dee madri: la maternità della terra e la maternità del cielo' (each title was translated and abridged by curators, this one as 'Motherhood as an Origin'), 'Maternità rivelata' ('Motherhood Revealed'), 'Dalla maternità sacra alla maternità borghese' ('From Scared Motherhood to Middle Class Maternity') and 'Il secolo breve: emancipazione della figura femminile dai temi archetipici ('The Search for a New Archetype').
Walking into the first room I was greeted by a Bill Viola video also entitled Mater (2001). Two women, one clearly older than the other, are presented in portrait format, side by side like two halves of an open locket. As the characteristic slow motion that characterises much of Viola's oeuvre enacts its magic, the faces of the women become warped with expression. We learn from the caption that the artist asked the women to replicate various emotions using their faces alone—anger, pain, joy, etc.—passing fluidly from one into the next. Despite the performative nature of the brief the video's suspension of time causes moments of real transcendence to be captured, framed, all the while, within the boundary of the portrait. Vaster than the art object this transcendence resounds as art's true essence, an essence that by no means requires the face to dramatize it but is inextricably linked to the human condition.
Viola's video reminded me that within much late twentieth century and post-millennial art and visual culture at large, facial expression has become anachronistic. This is something observed by Frederic Jameson in his writings on post-modernism. When facial expression does appear inside the space of representation—in advertising for example—it is purged of all power, like eyes and smiles carved into sand mere seconds before the waves consume them. Contemporary art is rarely any different. The faces deftly rendered in ink or watercolour by the great Marlene Dumas—so powerfully evocative of the image-saturated times in which we live—often make a virtue out of this void, tapping into the suggestive possibilities of the blank stare or furtive, fleeting glance. I am reminded too of an episode of The Face UK, a British reality TV program in which young women compete for a fashion modelling contract. In this particular episode supermodel Erin O'Connor undertakes the task of teaching contestants how to animate their cherry-picked faces before the camera, how to mimic various emotions in a manner unique to high fashion's imaginary. We learn that is not expression but its shadow, and thus demands from the practitioner—the model—a differentiation from conventional drama. In a related interview entitled "Erin's Acting Master Class" O'Connor expands on this idea: "as a performer I think there's a clear distinction between theatre and fashion. (Fashion) is about sometimes holding back and trying to think about the final image and what that represents." In other words, in fashion, as in all advertising, destiny is always and only the image, not what the image itself represents. This might sound obvious, but it is worth emphasizing the way in which the phantasmic spectre of the "final image" tightly controls the wayward unpredictability of the human body and its responses.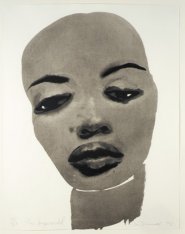 Confrontation with another person's emotions is seen as intrusive, disruptive, dangerous. In our daily lives we are taught to ignore hysterically the emotions of strangers.
The exile of feeling from our visual regime underscores the power of Viola's videos. They wrest the facial and corporeal intensity that breathes life into figures in religious artworks of the quattrocentro and baroque periods and pull it—with tacit empathy—into our secular epistemology. It is this secular epistemology that allows Viola to venture even further into the spaces opened up by past artworks: "I am interested in what the old masters didn't paint", the artist has stated, "those steps in between." The wide, empty eyes of the virgin in Rosso Fiorentino's Madonna col bambino tra i santi (c.1515), a work that appears later on in the exhibition, are anathema to the artist's quest. Fiorentino was a mannerist, and mannerism (a word and concept disputed by many but is useful for this purpose) bears a close kinship with contemporary art and visual culture. In both visual regimes, the tall, elegant body and the expressionlessness face possess a primacy that stems from the reification of style. Mannerist art and our own visual regime orbit around the "final image" in and for itself, as opposed to physical and emotive impulses behind or that lie ahead of it.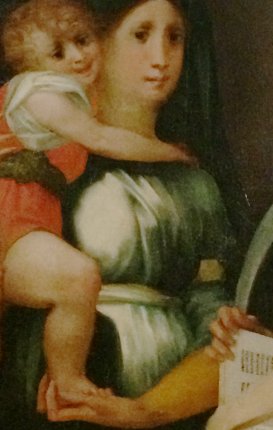 Past Viola's Mater a small volumetric mother goddess held court, made of stone by the Ozeiri people in Sardegna between 3200 and 2800 BC. Dali's Space Venus (1984) waited around the corner, its golden pubic egg drenched in artificial light. Room by room more events unfolded, interlaced by thoughtful panels of text.
During my afternoon at the palace I met many artists and works previously unknown to me, including Guido Crepax, whom I now understand to be one of the great cartoonists of the twentieth century. It was a treat to spend time with some Venetian paintings I knew only through images, including a Madonna col bambino by Veronese (1555-60), loaned from Vincenza, and Tiepolo's Immacolata concezione (1733). A highlight was stumbling upon a small black marble sculpture, Cupido Dormiente (1496). Boy, wings, quiver, lion skin and rock formed a sealed unit invigorated by its slick black surface.
Another standout work was by Michelangelo: Pistoletto's Venere degli stracci (1967). In contrast to the denser galleries I recall this now canonized specimen of Arte Povera being presented in a space all of its own. As such, the encounter between the goddess and the rags felt intimate, as though I was an unwitting voyeur witnessing a drawn out instant of sex or shame or a combination of the two. I could not look away.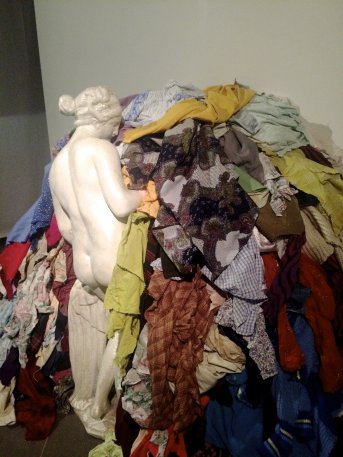 I believe this to be the original of several versions of the work. Pistoletto found the cement statue in a garden centre, covering it with a layer of mica to create a gently glittering patina. The pearlescent surface of the Venus renders her absorption in the rags less tokenistic than if she was carved from cold Carrara marble. The combination of her body's sparkling materiality and her classical form makes the goddess both solid and insubstantial, a duality that perfectly matches Pistoletto's lucid intentions and the ideology of Arte Povera. In this instance Venus's surface suggests disposability and fortitude in equal measure; her status as a replica of a replica, as an imprint of the western tradition rather than a bastion, compliments the contradictions contained within the scene. She is not a plaster cast, an antique nor a neo-antique, but something beyond these poles: a representation not of an idea, neither herself, but what she symbolises in that very moment, the moment she meets the rags. Faced with the multi-coloured hoard she actively participates in the world that dreamt her up, re-discovered her, placed her out of reach then into the garden. And in the process she de-activates that world. It was bizarre to view this work alongside classicizing painting and sculpture from Mantegna to Rodin.
Before I went to the Palazzo del Governatore I had been reflecting on the fact that exhibitions that bypass time and place to centre on representations of a single figure or idea are less common than they ought to be. Mater was a particularly lavish version of this all too rare type of display. I admired the way it was able to encompass such a wide range of material through the forging of its own special logic. Even the exhibition's subtitle—"Symbolic Itineraries Through Motherhood"—set the terms for a kind of curatorial experimentation that is generally lacking in today's museums and galleries. Under the banner of such a general subject the whole thing felt accessible: a maze one chooses to get lost in.
Departing from an empirical model in a decidedly continental manner, the interpretation did manage to centre on the political and socio-cultural implications of motherhood beyond art. The final section, opened with cartoons by Crepax, was introduced with a lamentation on the destructive role of war and advertising on womens' conception of their own bodies and the spirituality of the female form. What some may have read as irrelevant moralizing for me felt bold and refreshing.
Overwhelmed by all aspects of the exhibition I exited the cool of the Palazzo into the hot dusk. Only one thing could calm the energy stirred up inside me: eat a gelato and listen to the birds as they sang and swarmed in circles round the duomo.